Colombia Revelation of Brazil 2014, Says Maradona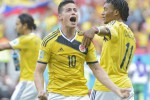 Colombia is the revelation of the Soccer World Cup Brazil 2014, said Argentine former soccer player Diego Armando Maradona, who praised the game of that team, headed by his fellow countryman Jose Pekerman.
Maradona, one of the hosts of the Tv program De Zurda, broadcast by Telesur, stressed that "Colombia is one of the revelations. I had said that in the qualification, but qualification and the World Cup are not the same."
I think Colombia is solidifying for a way to play that is very much related to Pekerman. They are playing well, said Maradona, who spoke by telephone with Colombian coach, whom he congratulated for the victory of his team.
"Colombia is playing to touch, to play, to create, and I find that healthy. And the goals are beautiful and are probably the result of the work of Pekerman and also of a serious commitment of the players," insisted the Argentine who led his country to the title in the World Championship Mexico 1986.
In his opinion, Colombia again found the ball, the team game, the power to fight for the midfield.
Colombia defeated Ivory Coast 2-1 with goals by James Rodriguez and Juan Quintero, while the Africans scored one by Gervinho, whose talent was praised by Maradona.
[source: http://en.escambray.cu/2014/colombia-revelation-of-brazil-2014-says-maradona/]